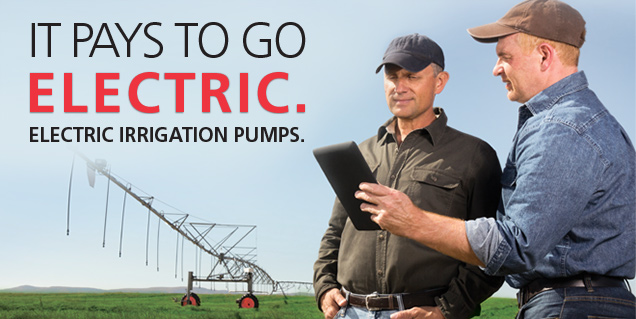 Choose Electric and Harvest the Savings.
Keeping your business profitable means looking for ways to stretch every dollar. Choosing electric pumps to operate your irrigation system is one important way you can lower operating costs and save money. The Entergy Electric Conversion Program makes it easy for you to go electric.
Contact Us Now to Start Saving:
1-844-44WELLS (1-844-449-3557)
Lower Energy Costs.
Choosing electric instead of diesel-powered pumps could help you reduce operating costs.
---
Lower Maintenance Costs.
Electric motors last longer.
No belts, radiators, clutches, or oil changes needed.
Vibration in the motor is minimal, which is better for the pump and well.
Plus, electric is more reliable, cleaner, quieter, safer, and easier to operate. 
---
Line Extension Policy.
The Entergy Louisiana, LLC line extension policy allows Entergy to cover the cost of the line extension at an amount up to 4 times a portion of your projected annual electric revenue to Entergy from the well.

Combining multiple wells under the same property owner into a single project allows customers to maximize their line extension credits in order to make a larger project feasible. 

For line extensions beyond the revenue justification credit, customers can pay the remaining cost either upfront (Contribution in Aid of Construction - CIAC) or through a charge added to your monthly bill (minimum bill).
"For me it was a no-brainer. The electric pump is efficient and has lower maintenance costs."
-- John C., Rice farmer
---
Start Today.
Are You Eligible?
The Entergy Electric Conversion Program is available to Louisiana farmers with wells located within Entergy's service area. No matter whether you grow corn, rice, soybeans, or raise crawfish, you can save money with a more efficient way to power your irrigation pumps.
The Entergy Electric Conversion Program will work with you every step of the way.
Schedule a free onsite consultation.
Get a no-obligation cost estimate.
Frequently Asked Questions about converting to electric irrigation pumps.
"Electric pumps are cleaner to operate and require less regular maintenance."
-- Matthew C., Soybeans, rice, and corn farmer 
---
Know More.