In April of 2015, Entergy Louisiana began an accelerated pipe replacement program in Baton Rouge, a 10-year effort to improve the safety and reliability of the natural gas system.
The project involves replacement of approximately 100 miles of gas pipe, or roughly 6 percent of the main gas system. Pipe types initially targeted for replacement included cast iron, bare steel and early vintage polyethylene.  As of mid-year 2017, all cast iron and bare steel has been replaced.  Only early vintage polyethylene remains and is the focus for the remainder of the program.
Removing aging gas pipe infrastructure is an industrywide focus. This project will help the company manage the integrity, reliability and safety of the gas distribution system, a primary goal for Entergy's Gas Distribution Business. This work will help us rapidly modernize our facilities, improve our operational performance and better serve our customers.
Click here for a status map.
---
Why Replace Gas Infrastructure?
Manage the Integrity and Reliability of the Gas Distribution Pipeline
Managing the integrity and reliability of the gas distribution pipeline has always been a primary goal for Entergy's Gas Distribution Business. Our integrity management plan keeps us in compliance with requirements set by the U.S. Department of Transportation Pipeline and Hazardous Materials Safety Administration.
Entergy Louisiana's accelerated pipe replacement program is a 10-year effort to enhance the safety and reliability of the natural gas system. The project involves replacement of approximately 100 miles of main gas pipe, or roughly 6 percent of the main gas system.
As of January 2018, all cast iron, bare steel and several miles of vintage polyethylene pipe have been replaced.  In total approximately 34 miles of pipe have been removed from service and replaced with modern pipe materials.
Reliability and Safety Benefits
Entergy's gas delivery system is safe – it is routinely inspected, subject to regular maintenance and testing, operated by trained and qualified employees and subject to programs that educate and inform customers about their role in safety. We comply with all federal and state safety regulations.
Safety is Entergy's number one priority for customers and its employees. The company's customers should call Entergy or the gas company serving their area whenever they have signs of a gas leak such as smell, blowing gas, etc.
To deliver natural gas safely and efficiently and meet integrity management plan requirements, the company identifies pipeline threats, evaluates and addresses risks and monitors and evaluates the effectiveness of measures taken.
Ongoing reliability activities include performing annual leak surveys and taking corrective action, and tracking outages and analyzing data to identify problem areas and develop reliability improvement solutions.
The company and its gas employees are subject to stringent internal controls and must meet rigorous federal and state oversight to ensure that natural gas is delivered safely and efficiently.
The new system configuration introduces additional redundancies to ensure reliable delivery of gas to customers, thereby reducing the scope of outages.
Disruptions to the flow of gas can be isolated and confined more easily, keeping the flow of gas available to more customers in an affected area
A new safety feature will be included in new gas service lines to homes or businesses. This new feature, an "excess flow valve", will automatically shut off gas flow if the customer's service develops a leak or some other disruption.
---
Rate Impact
The estimated cost of $65 million, which includes the cost of the infrastructure replacement program and costs associated with local government-mandated projects in Baton Rouge, will be recovered through a 10-year rider on Entergy Louisiana gas customers' bills.
The estimated effect on rates for the first three years for a typical residential customer using 4 mcf (4,000 cubic feet) per month on a total bill of about $20, will result in a bill increase of $0.43 per month by the end of the first year, $1.28 per month by the end of the second year and $2.28 per month by the end of the third year, with an estimated 2 percent annual increase for the remaining years of the rider.
The estimated rate impacts for the first three years for a typical commercial customer using 10 mcf per month on a total bill of about $264, will result in a bill increase of $5.28 per month (or 1 percent) by the end of the first year, $15.82 per month in the second year, $28.55 per month in the third year and an estimated annual 2 percent increase for the remaining years of the rider.
Bill estimates do not reflect any customer savings from increased reliability as well as savings from reduced operating and maintenance costs and any potential lost and unaccounted for gas. Estimates include the cost of the gas infrastructure replacement program and any government-mandated projects up to $1.5 million annually.
Entergy Louisiana's residential natural gas rate currently is among the lowest of Louisiana's investor-owned gas utilities.  
---
Minimal Disruption to Street Projects, Traffic 
Entergy Louisiana is using a drilling technology called directional boring that eliminates trenching, the traditional and extremely disruptive method for installing pipe that disturbed streets and made access to homes and businesses difficult.
It will affect only small sections of sidewalks. This minimizes potential conflicts with future street repaving, water or sewer projects.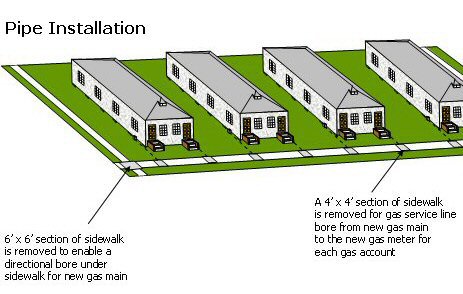 Instead of using a single-main configuration, Entergy Louisiana installs two mains, one on each side of city streets. This configuration dramatically reduces the need to conduct street work, minimizing any disruption of traffic.
Only small sections of sidewalks will be affected. Cuts into the sidewalks will measure approximately 4 feet by 4 feet or 4 feet by 6 feet. The smaller cuts basically measure the size of a single sidewalk panel.
---
Work in Action
Watch a short time-lapse video of a crew performing work in a neighborhood in New Orleans. The combination of innovative drilling technology and modern distribution piping will virtually eliminate customer disruption and ensure better gas service reliability once completed. The techniques used in this video are that same as are used in the Baton Rouge gas infrastructure replacement program.
---
Frequently Asked Questions
When will the gas system in my neighborhood be replaced?
Customers will be notified about the work schedule by mail, by door hangers or by a visit from an Entergy representative.
Will I experience any service disruptions if the gas pipe serving my home or business is replaced?
Customers will experience a minimal service disruption while the new system is connected to their homes or businesses.
When will the gas infrastructure replacement program be completed?
The program is scheduled to be completed by 2024. Entergy Louisiana will keep the Louisiana Public Service Commission, customers and other stakeholders informed of its progress. Continuing at the current pace, the gas infrastructure replacement program is expected to be completed in 2024; however, Entergy Louisiana will continue to make gas improvements to ensure safe and reliable service to its customers. 
 
If you or someone you know is experiencing any gas reliability issues, please contact 1-800-ENTERGY to report the problem. Providing safe, reliable service to customers is our top priority.