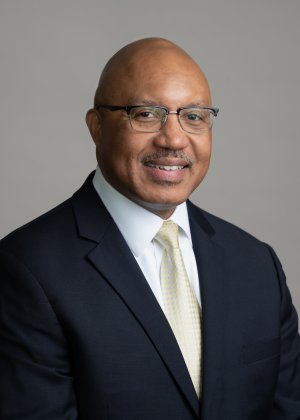 David L. Johnson is vice president of customer service for Entergy Louisiana. In this role, he is responsible for leading day-to-day customer service operations and establishing and maintaining relationships with present and future customers as well as the local communities Entergy Louisiana serves.
Prior to joining Entergy, Johnson served as senior vice president of customer service and economic development for DTE Energy, a diversified energy company that provides electric and gas services to more than three million Michigan residential, business and industrial customers.
Johnson has more than 20 years of experience working in the customer service industry. Prior to joining DTE Energy in 1999, he held leadership roles focused on customer service with other large utility companies, including San Antonio Water System and AT&T.
Johnson holds a Bachelor of Science degree in accounting from Lawrence Technological University. He is a 2001 graduate of Leadership Michigan and has been an active mentor and career coach for young and developing professionals. He has served on the boards of several non-profit organizations, including Children's Hospital of Michigan, Accounting Aid Society, Junior Achievement, United Way 211 and others.
In 2007, he was acknowledged as one of the San Antonio Chamber of Commerce's "Top 40 Under 40." His professional memberships include the American Association of Blacks in Energy.
Updated 4/2019