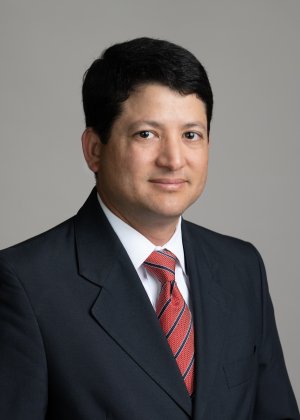 Eduardo "Ed" Jimenez is director of business and economic development for Entergy Louisiana, LLC. He is responsible for developing revenue growth initiatives and goals, and establishing operational programs and policies that support the annual sales plan including economic development, major industrial accounts and competitive large residential and commercial developments.
Prior to joining Entergy, Jimenez served as director of business development for Louisiana Economic Development (LED), a position he held since June 2010, managing lead development strategies for the state department. He aggressively recruited companies of various sizes in order to attract new jobs and capital investment to Louisiana. From January 2009 through June 2010, he held various positions at LED and managed strategic initiatives in the areas of deal structuring and valuation, contract negotiations and business process management, helping LED become one of the top state economic development organizations in the country.
Previously, Jimenez was vice president of sales for Your Other Warehouse (YOW), a subsidiary of The Home Depot, where he was responsible for the strategy and direction of YOW's sales operations across the company's diverse product lines. In that position, he led YOW's efforts to diversify its revenue by fully implementing an e-commerce sales strategy that allowed the company to gain significant market share and capitalize on long-term growth opportunities. Before YOW, he worked in finance and business development roles for an oil and gas service company based in Lafayette, La.
Jimenez has served on the executive board of the Louisiana Industrial Development Executives Association (LIDEA), the Friends of the Baton Rouge Zoo, the Council For A Better Louisiana (CABL), One Acadiana, and the Louisiana Business and Technology Center at LSU.  He holds a bachelor's degree in management information systems from Louisiana State University and a Master of Business Administration from Goizueta Business School at Emory University. Fluent in both English and Spanish, he was born in Costa Rica and has lived in six countries.
Updated 11/2017